PHOTOGRAPHY īd CINEMA CLUB OF KARDITSA
(LEFKK)
Kostas Korkontzelos biographical note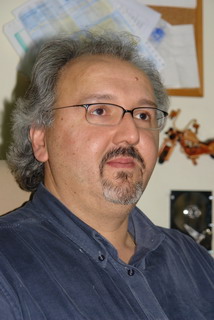 My name is Korkontzelos Kostas. I was born in 1966 in the small village Rachoula of the prefecture of Karditsa. In April 1989 I graduated from the Department of Computer Science, University of Crete. I worked for the municipality of Aegaleo for three years. Since 1992 I have been working for the Municipality of Karditsa. I am the person in charge of the Computerization and New Technologies office.

I am married and I have a little girl.

I am passionate with the computers. I feel lucky in my life that my profession is also my hobby. I cannot imagine spending one day of my life without touching the keyboard and the mouse!

My other love is cinema. Cinema fascinates me as an art and as the process of making a movie. Motivated by this love and in combination with my ease of using PCs and the corresponding software, I have been dealing with video editing for ten years (reception, montaz, conversion from analog to digital, DVD authoring etc). My personal movie collection counts more than 600 titles of DVDs and hundreds of films in VHS format.

I began to deal with photography in 2002, when I bought my first digital camera, an OLYMPUS at 2 Megapixel. One year later, I bought a FUJI (3 Megapixel) and just recently a SONY - DSC R1 at 10 Megapixel. I must admit that photography and its possibilities finally gained me. I shoot almost everything. I enjoy very much the process of taking a shot. It reveals to me aspects of the world which I have never imagined that exist.

My objective is my continuous improvement and of course my attendance in a photo show.



Korkontzelos Kostas
tel.: 6977719006
e-mail: korko@kar.forthnet.gr
Photography īd Cinema Club of Karditsa (LEFKK)
Omirou 2, GR-431 00 KARDITSA, GREECE
tel.: +30 2441026587, 6973438137
url: www.lefkk.gr ............ e-mail: lefkkgr@gmail.com
The assiduity and maintainance site are work of member of club Nikos Maidonis